JERICHO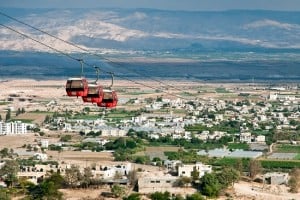 Jericho is located 258 metres (846 ft) below sea level in an oasis in Wadi Qelt in the Jordan Valley. The rich oasis of Jericho is known as the oldest city in the world.
Jericho is described in the Hebrew Bible as the "City of Palm Trees".
The excavation of the Tel or archaeological mound within today's small Palestinian Arab city has unearthed remains of the oldest walled town in the world. The abundant Elisha's Spring is what has always made Jericho an important oasis in the barren Judean Desert. It was the first city conquered by Joshua, when "the walls came tumbling down". Excavations revealed relics from the Neolithic, Chalcolithic, and Early and Middle Bronze Periods. South of the city are the remains of King Herod's winter palace. A well-preserved mosaic floor of a 6th-century synagogue was uncovered within the city. One mile to the north is the impressive ruin of the palace of Hisham.
Area Map:
>