MITSPE RAMON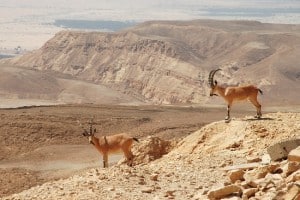 On the edge of the Ramon crater, at a height of some 300 meters above it, sits the town of Mitspe Ramon. This pleasant, quiet town, built in the landscape of the largest of the Negev craters, between paths and cliffs, mountains and springs, has recently become a thriving tourism town. Mitspe Ramon was founded in 1951. A few decades ago, when desert tourism began to flourish, Mitspe Ramon developed along with it, offering visitors lodging in lovely guest rooms and many other tourism services.
Today Mitspe Ramon is an important stop for desert tourists. The southern part of town has a wide variety of hotels, hostels, campsites and a Bedouin inn. It is the starting point for jeep, bicycle or camel tours. Here one can rappel down the steep cliffs and get a real adrenaline rush.
The visitors center on the edge of the crater offers an amazing view of the crater's beauty and its treasures. The zoological garden houses local desert animals, including snakes, lizards and mammals. In the eastern part of Mitspe Ramon there is a large sculpture park, and to the west is a one-of-a-kind alpaca farm and a desert archery center. The crater itself is full of fascinating geological phenomena, charming nature spots, ancient historical sites, easy and difficult hiking paths and endless expanses of breathtakingly beautiful desert.
Area Map:
>