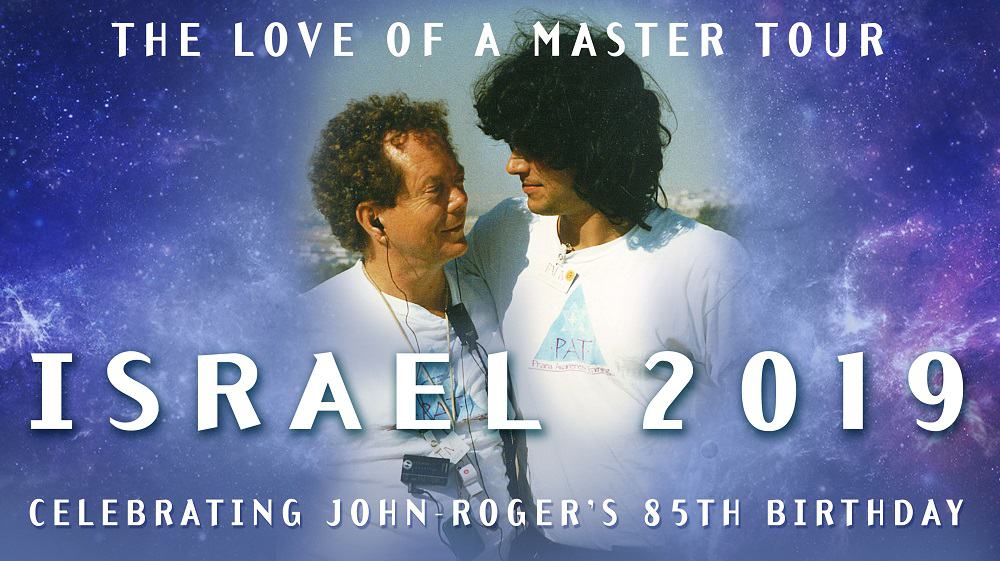 Dear friends of J-R and Jsu,
I am Benji Shavit. Nearly 40 years ago, working as a tour guide in Israel, I met a man who changed my life. He was a tourist named "Mr. Hinkins"—I took him around the country and showed him the amazing Holy Land of the Lord. 
During those 10 days we traveled together, I was tremendously impressed by his knowledge about our country and the religions here. Inexplicably, I felt very close to him, like I had found my soulmate. But even in my most wild imagination, I could not foresee the influence this man would have over mine and my family's life in the decades to come.
The deep connection I experienced with Mr. Hinkins led me to act like never before! For the first time, I "took my work home," introducing him to my wife Zehava and our kids. Suddenly, it seemed like our family had grown with one more distinguished member.
Over the next 35 years, Mr. Hinkins—also called "John-Roger" or "J-R"—traveled to Israel a dozen times, leading the famous summertime Peace Awareness Training groups: seven PAT IV trips from 1984 to 1990 and two PAT V trips in 1995. He brought more than 150 people with him each time…and I had the honor to guide every one of those beautiful souls.
One of them became mi hermano, Jsu Garcia. In 2007, he brought J-R and a few friends to attend the Tel Aviv Spirit Film Festival, where Spiritual Warriors had been accepted. Six years later, Jsu and his production crew shot parts of the film Mystical Traveler here. In 2009, 2014, 2015 and 2018, he continued the tradition of celebrating John-Roger's September 24th birthday in Israel. 
Last year, we were honored to host the tour group at my estate for five days where we had a great retreat. Gili, my son, and his wife, Mia, catered the group and we used Zehava's studio for the retreat. It was a really wonderful spiritual experience.
Now, we are excited to plan the next "Love of a Master" Holy Land trip in September 2019! It will be so nice to host Jsu's group again in this beautiful country of ours.
Come and be part of this voyage through the spirit—meditate in Galilee; walk the Path of the Masters, King David, Jesus Christ, and John-Roger; a step where Jesus stepped and performed miracles; visit the Sea of Galilee, Jerusalem, the Dead Sea, Masada, and many more exciting places.
You are invited to join us for a great experience that will endure in your heart and soul, forever. To register for the tour, please visit:
Love & Light from Jerusalem,
Benji Shavit
"Where two or more are gathered, there he is also." From Moses…to Jesus…to John-Roger…come walk the path of the Masters in the Holy Land September 2019"
-Jesus Garcia, D.S.S.

"The word dwelling in us is indeed the very name of God, the very name of God"
-John-Roger, D.S.S.
"But seek ye first the kingdom of God and his righteousness, and all these things shall be added unto you."
-(KJV)

"The breath that does not repeat the Name of God is a wasted breath."
- Kabir

Tour Itinerary:
Day 1 - September 17TH
"The Love of a Master" Tour begins upon your arrival in Tel Aviv on Sept 17. We'll begin with a group welcome
Day 2 - September 18th
We tour the Galilee and Golan Heights area. To start us off, baptisms will be performed in the River Jordan to clear and align with the Spirit and our Inner Masters. (Bring a completely white swimsuit or shorts/T-shirt. If you haven't yet been baptized in MSIA, contact Prana at 323-737-4055 in advance to request your Baptism and a booklet). We will visit Capernaum and the Galilee area.

Days 3, 4 and 5 - September 19th – September 21st
Partake in a 3-day Spiritual Retreat near Mount Tabor and the Galilee region, including a side trip to Mount of Transfiguration and Mount of Beatitudes.
Days 6, 7 and 8 - September 22nd – September 24th
On to Jerusalem. On the way visit Bet Shean excavations, the oldest town in the World, Jericho. Arrive Jerusalem where we will have three days touring of Jerusalem Old & New City. We will visit Mount of Olives, the Garden of Gethsemane, David's Tomb, the Dead Sea Scrolls at the Israel Museum, the Jerusalem Miniature Model as well as the town of Bethlehem. In the evening we will celebrate John-Roger 85th Birthday. Dinner at the Notre Dame Rooftop Cheese and Wine Restaurant overlooking the Old City on September 24.
Days 9 and 10 - September 25th – September 26st
Two days at the Dead Sea, visiting Masada and Qumran, where the Essenes who wrote the famous Scrolls, lived. We will have the chance of floating on the saline Dead Sea waters, the saltiest and the lowest place on Earth. ( be sure to shave or wax the night before, not that morning).
Day 11 - September  27th
Our final day and night will be spent in Jerusalem with a Blessings Dinner.
Day 12 - September 28th
The group returns home in peace and grace.

Tour Images:
We were all so young and beautiful.! I really miss those days…