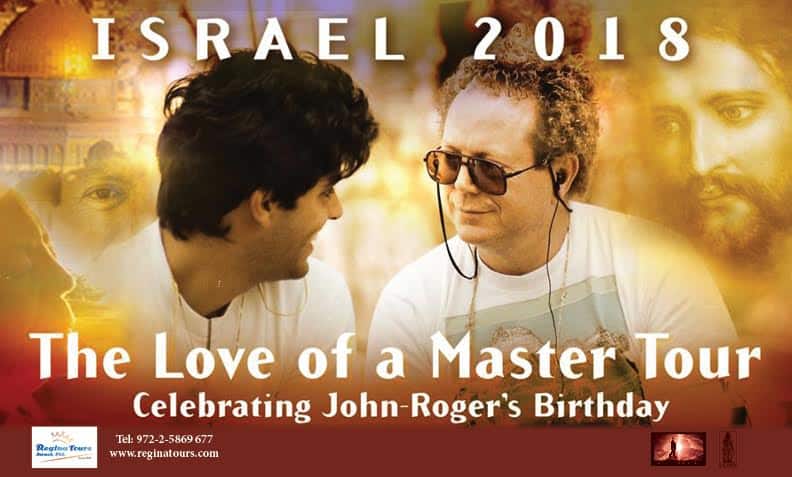 "I am so excited….
Almost 40 years ago, Working as a tour guide in Israel, I met a Man who changed my life.
At that time I received a tourist called Mr. Hinkins. I took him around the country of Israel, and showed him the amazing Land of the Lord.  Even in my most wild imagination, I could not foresee the influence this man would have over mine and my family's life.
During the 10 days I was with him, I was tremendously impressed with his knowledge about our country and the religions here. I felt so close to him, like I found my soulmate…
This brought me to act like never before !, I 'took my work home' and introduced him to my wife Zehava and to the kids and… we suddenly felt like our family grew with one more distinguished member.
During the last 40 years, J-R came to Israel dozens of time, leading the famous PAT groups. I had the honour to guide ALL these beautiful people he brought with him.
One of them is mi Hermano Jsu, who is now renewing the tradition of these spiritual trips to the Land of Israel.
It will be so nice to be able to host you and guide you in this beautiful country of ours.
Come and be part of this voyage through the spirit, meditate at the foot of Mount Tabor, walk the Path of the Masters King David, Jesus and John-Roger. see where Jesus walked and performed miracles. Visit the Galilee, Jerusalem, the Dead Sea, Massada and many more exciting places.
You are invited to be part of a great experience that will endure in your heart and soul, forever"...
To register to the tour please go to:
Love & Light from Jerusalem,
Benji Shavit
Tour Itinerary:
Day 1 - September 17TH
"The Love of a Master" Tour begins upon your arrival in Tel Aviv on Sept 17—do not plan to arrive any later, because Yom Kippur begins at sundown on September 18. Very important! We'll begin with a group welcome that evening surrounded by the balmy Mount Tabor energy.
Day 2 - September 18th
We tour the Galilee and Golan Heights area. To start us off, baptisms will be performed in the River Jordan to clear and align with the Spirit and our Inner Masters. (Bring a completely white swimsuit or shorts/T-shirt. If you haven't yet been baptized in MSIA, contact Prana at 323-737-4055 in advance to request your Baptism and a booklet.)
Days 3, 4 and 5 - September 19th – September 21st
Partake in a 3-day Spiritual Retreat near Mount Tabor and the Galilee region, including side trips to Mount of Beatitudes and Mount of Transfiguration.
Days 6, 7 and 8 - September 22nd – September 24th
Three days touring Jerusalem and the Old City, with a celebratory John-Roger 84th Birthday Dinner at the Notre Dame Rooftop Cheese and Wine Restaurant overlooking the Old City on September 24.
Days 9 and 10 - September 25th – September 26st
Two days at the Dead Sea, visiting Masada and the Qumran caves, where the famous Scrolls were discovered. (If you choose to float with us in the saline Dead Sea, be sure to shave or wax the night before, not that morning.)
Day 11 - September  27th
Our final day and night will be spent in Jerusalem with a Blessings Dinner.
Day 12 - September 28th
The group returns home in peace and grace.

Tour Images:
We were all so young and beautiful.! I really miss those days…