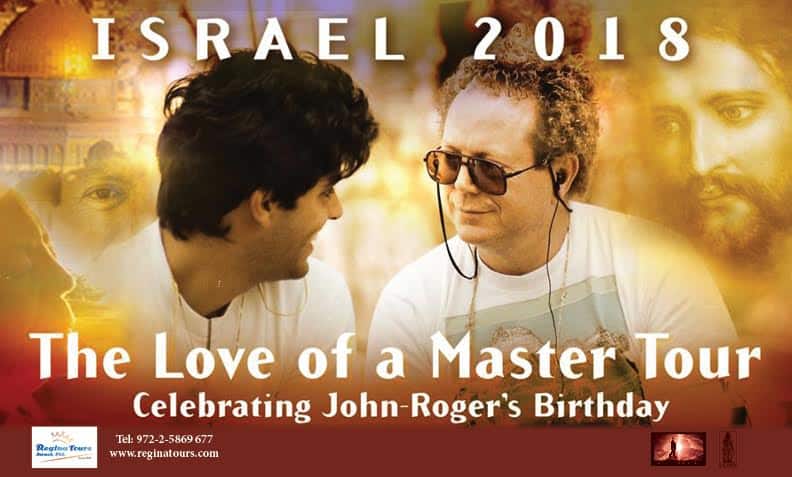 "I am so excited….
Almost 40 years ago, Working as a tour guide in Israel, I met a Man who changed my life.
At that time I received a tourist called Mr. Hinkins. I took him around the country of Israel, and showed him the amazing Land of the Lord.  Even in my most wild imagination, I could not foresee the influence this man would have over mine and my family's life.
During the 10 days I was with him, I was tremendously impressed with his knowledge about our country and the religions here. I felt so close to him, like I found my soulmate…
This brought me to act like never before !, I 'took my work home' and introduced him to my wife Zehava and to the kids and… we suddenly felt like our family grew with one more distinguished member.
During the last 40 years, J-R came to Israel dozens of time, leading the famous PAT groups. I had the honour to guide ALL these beautiful people he brought with him.
One of them is mi Hermano Jsu, who is now renewing the tradition of these spiritual trips to the Land of Israel.
It will be so nice to be able to host you and guide you in this beautiful country of ours.
Come and be part of this voyage through the spirit, meditate at the foot of Mount Tabor, walk the Path of the Masters King David, Jesus and John-Roger. see where Jesus walked and performed miracles. Visit the Galilee, Jerusalem, the Dead Sea, Massada and many more exciting places.
You are invited to be part of a great experience that will endure in your heart and soul, forever"...
To register to the tour please go to:
Love & Light from Jerusalem,
Benji Shavit
Tour Itinerary:
September 17TH
Zeus and Nicole and other friends will be met at the airport and transferred by bus to Benji's home at Kfar Kish.

Sept. 18th –  Sept  21st
4 days of The Love of a Master Workshop and visits in Galilee. Overnights in country lodging.
Sept  22nd
Drive to Jerusalem. Overnight in Jerusalem.
Sept  23rd
Visit Jerusalem. Overnight in Jerusalem.
Sept  24th
Visit Jerusalem. In the evening special Master's 84th Birthday dinner. Overnight in Jerusalem
Sept  25th
Visit to the Judean Wilderness and the Dead Sea. Overnight on the Dead Sea shoure.
Sept  26th
Enjoy the Spa and the Dead Sea. Visit Massada. Overnight on the Dead Sea shoure.
Sept  27th
Drive to Jerusalem. Rest of day at leisure. Overnight in Jerusalem
Sept  28th
After breakfast, end of services. Own transfer to Airport.

Tour Images:
We were all so young and beautiful.! I really miss those days…