JERUSALEM & BETHLEHEM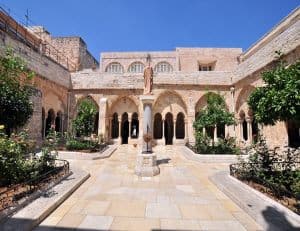 Jerusalem is the capital of the State of Israel, and the ancient capital of the Biblical Jewish kingdom. It is holy for Jews, Christians and Muslims. Jerusalem lies in the Judean Hills.
It contains the Old City, surrounded by high-fortified walls and ramparts, and the New City, modern Jerusalem. In this tour you will experience some of the old and some of the new. You will enter the old city through the new city. Inside the old city walls you will walk through many of the holy sites for all Three religions and appreciate the beauty of Jerusalem. Later we will travel to Bethlehem, one of the most important Christian sites, the Church of the Nativity, believed to be built over the cave in which Jesus was born.
WHY DAILY TOURS WITH REGINA TOURS?
Tour Itinerary:
Drive to Mount of Olives for a panoramic view of the city. Stop at Mount Zion to visit king David's tomb, room of last supper and the dormition abbey; Enter the old city and walk through the Armenian and Jewish quarters to the recently excavated and restored Cardo, the Roman road. See the Jewish wailing wall, the Kotel, and continue to the Christian quarter. Walk along the Via Dolorosa and visit the church of holy Sepulchre. Continue to Bethlehem for an overview of shepherds' field; Visit the church of Nativity and manger's square. Return to point of departure.
NOTE : Modest dress (no shorts or sleeveless shirts) and head covering are required for visiting holy sites.
Price includes:
Shared transport hotel pick up.
English speaking Tour Guide.
Entrance Fees.
Price Excludes:
Lunches and dinners.
Tips or gratuities for guide and driver.
For more information on reservation, payment, and cancellation, please read Terms & Conditions.
Tour Image Gallery: